Hay-Mizer®
Livestock Feeders
Makes you money by saving your hay!
This is the last livestock hay feeder you will need to buy. Look at it as CAPITAL INVESTMENT that is built to last!
20+ years of providing a quality product that is beneficial to the producer. How much hay can you afford to waste?
With the price of hay, the answer is "As little as possible!"  Welcome to the Hay-Mizer®, a revolutionary hay feeder design that is 95% efficient and is proven to save your hay.
These rugged hay feeders are built to last—in fact, they are the heaviest feeders in their class. The Hay-Mizer® can feed round, square or ground hay and the unique design of these feeders keep hay where it belongs—inside the feeder until your livestock eat it!
*This Hay-Mizer® has over two decades of use and still going strong! Sized to fit Buffalo to Miniature Livestock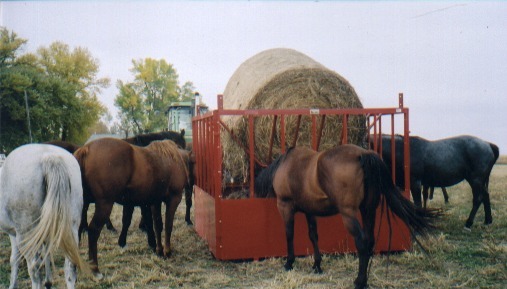 In 1999, I had local cattle producers come to me asking me to build a hay feeder for them.  They had three criteria for this hay feeder:
First, it must be durable and hold up, not fall apart like the "disposable" ring feeders that are so common.
Second, it must not waste hay like the other feeders – it must be extremely efficient.
Third, it must be affordable.
I'm glad they didn't want much!! Since then we have created a variety of sizes and new features to make the Hay-Mizer® even more efficient.

This rancher has 65 cows eating from one Hay-Mizer®.  This feeder has been in this one location for over a year.  Even with feeding two bales per day for over a year, the only waste around this feeder is manure – not hay!  Notice how well the Hay-Mizer® can handle large numbers of cows without a problem.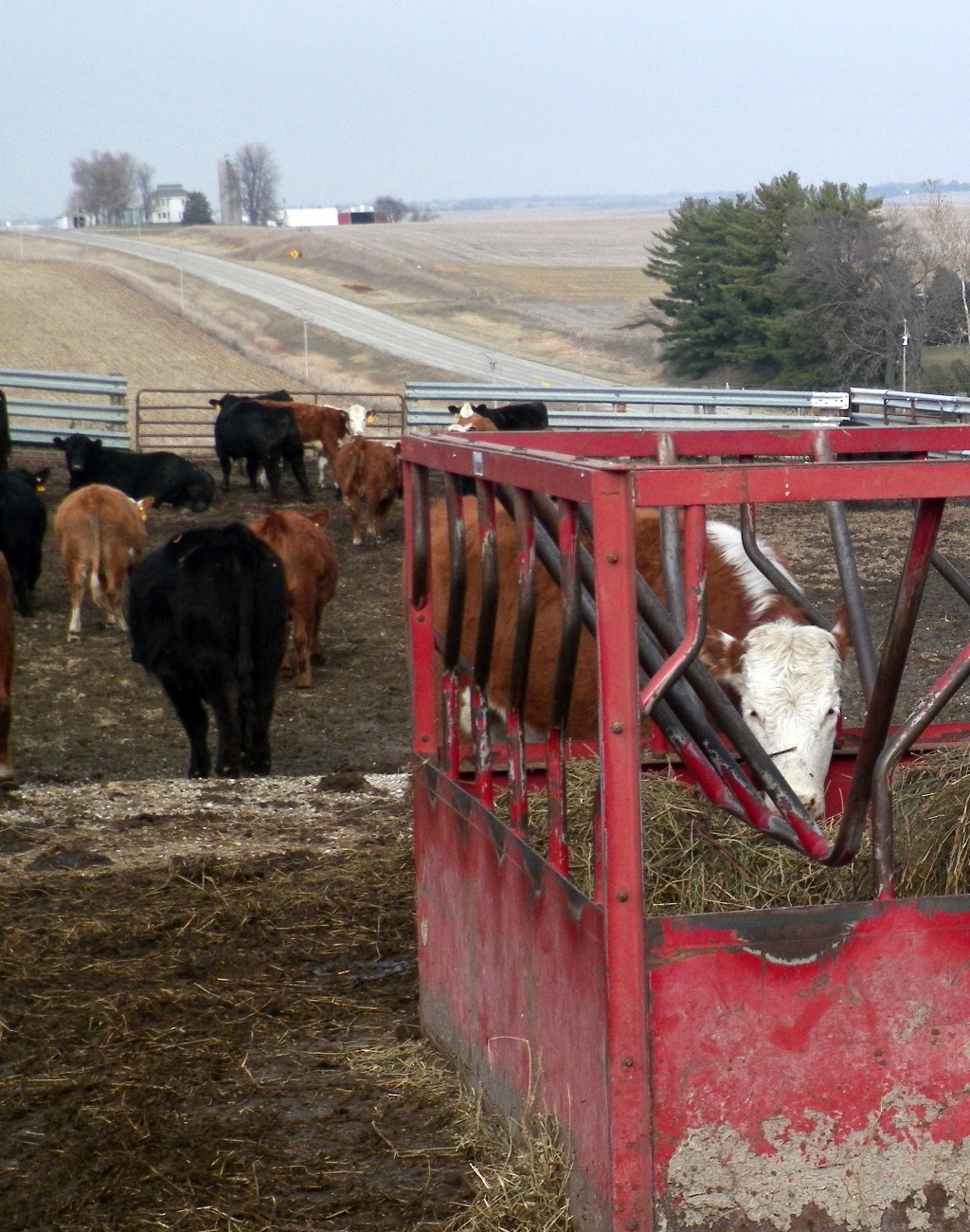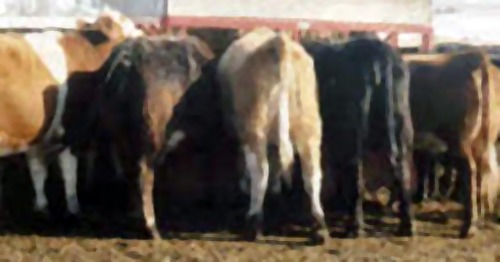 Step 1
Bolt together three sides of the Hay-Mizer® using twenty (20) 7/16″ by 1″ hex head bolts (works best with nuts on outside). Optional, but recommended – Slide the floor boards into the 1″ x 2″ channel.
Step 2
Slide cradle in and rest on top angle irons. Do not bolt solid until 4th side is in place. Bolt on the fourth side using the rest of the 7/16″ by 1″ hex head bolts (works best with nuts on outside).
Step 3
Bolt the cradle into place using sixteen (16) 7/16″ x 1 1/4″ carriage bolt, flat washer and nut on underside.
Optional
(Optional, but recommended). Bolt on the top rail boards using 7/16″ x 2 1/4″ carriage bolts and nuts. The Hay-Mizer®
Livestock Feeder
These rugged hay feeders are built to last. In fact, they are the heaviest feeders in their class. Delivered anywhere in the continental US.
Call to Order Now!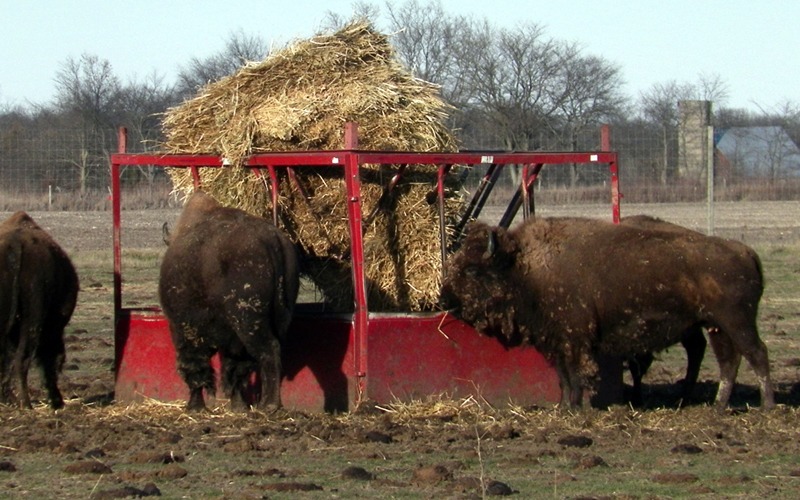 What size of hay bales will work with the Hay-Mizer®?
The 8ft x 10ft Hay-Mizer® is made for large square bales. The smaller 8ft x 8ft or 8ft x 6ft Hay-Mizer® works great with large round bales.
What if I need a Hay-Mizer® built for a custom application?
We would love to hear what you have in mind. Our Buffalo/Bison Hay-Mizer came about because of a special request due to the large head and neck sizes of these animals. We will take any request into consideration. Just give David a call: 877-828-1972.
What do you mean by, "the last hay feeder you will ever need to purchase?"
The Hay-Mizer® livestock hay feeder is built to last. We have sold these high-quality feeders for more than 25 years and not one has had to be replaced. Many come back to buy an additional Hay-Mizer® or two for their livestock because they work so well. We love referrals, and many of our customers are happy to share their story. Just let us know if you would like to connect with someone using the Hay-Mizer® in real-life applications.
What does "high-efficiency" really mean?
Typical hay feeders are about 50% efficient. Meaning you will lose about 50% of your hay due to spillage or inaccessibility. The Hay-Mizer® is 95% efficient. The Hay-Mizer® keeps the hay contained and available for the livestock to easily access. How much money can you afford to waste on hay that is not consumed? 
Have a custom application? Give us a call. This Buffalo/Bison Hay-Mizer® was built specifically for this type of livestock.
Raising unique (less common) livestock can be a challenge. Bison are definitely in this category. Their large heads and thick necks make it difficult to use an "off the shelf" hay feeder typically made for cattle. Our feeders are built tough to withstand years of abuse and with a unique configuration that has been tested to be effective for the bison's size to maintain that 95% efficiency rating.
With 65 cows eating from one Hay-Mizer® and feeding two bales per day, the feeder has been in the same spot for over a year! The only waste generated around the feeder is manure—saves a lot of time and money! The best cradle-style stationary bunk feeder in the country, coast to coast! Best money I've ever spent!
Hay-Mizer customer I never imagined it would be built with such nice heavy steel—and the welding is something you'll never find elsewhere. The side panels aren't just tacked, they are full solid welded in place.
James Williams