The History Of THE HAY-MIZER®
My name is Dave Lovell and I build THE HAY-MIZER® just outside of Pella, Iowa. I owned and operated a welding fabrication shop in Pella for seven years. In 1999, I had local cattle producers come to me asking me to build a hay feeder for them. They had three criteria for this hay feeder:
It must be durable and hold up—not fall apart like the "disposable" ring feeders that are so common. 
It must not waste hay like the other feeders—it must be extremely efficient.  
It must be affordable.  
I'm glad they didn't want much!!
When designing this hay feeder, I spent many hours thinking, asking, studying, and watching. I thought long and hard about different design possibilities. I went to the local ranchers and asked lots of questions about why their other feeders were not working and what they thought would work better. I studied hay wagons and hay rings and other design concepts and tried to evaluate their strengths and weaknesses. I spent many hours watching cattle eat—not a real exciting activity, but I learned some concepts that I would incorporate into the Hay-Mizer® to make it the most efficient hay feeder on the market. 
Using what I had learned from ranchers and my observations, I designed and built the first two Hay-Mizer® feeders in 1999. We took these feeders out to local ranchers and let them try them for several weeks each.
We ran into a little problem—the ranchers did not want to give the feeders up because they worked so well! Cattle producers loved the feeder and wanted to purchase their own. 
In order to make the feeder more affordable, I had to find ways to build the feeder more quickly and efficiently. I made some design changes to virtually eliminate any waste steel and made some other changes to make the fabrication process more efficient.
January 2000, we made 8 feeders and sold them to local cattlemen. Within a very short period of time, one of our customers, Olympic Genetics, called back and order three more feeders! The Hay-Mizer® was born!
My first customers convinced me to start going to shows and sell THE HAY-MIZER® feeder. I did the patent and trademark work and have since produced and sold over 1,000 feeders in twenty-three different states. Some of my customers now have 6–10 feeders. Many customers return to buy more feeders once they see how well they work.
In 2001, customers came back, asking me for THE HAY-MIZER® that is sized to feed calves. With some design modifications, and scailing down the size, we started producing THE HAY-MIZER® for calves and yearlings later that year.
As you can see, THE HAY-MIZER® works because it was designed to work! It was designed with much input from cattlemen, and who knows what cattle need more than cattlemen?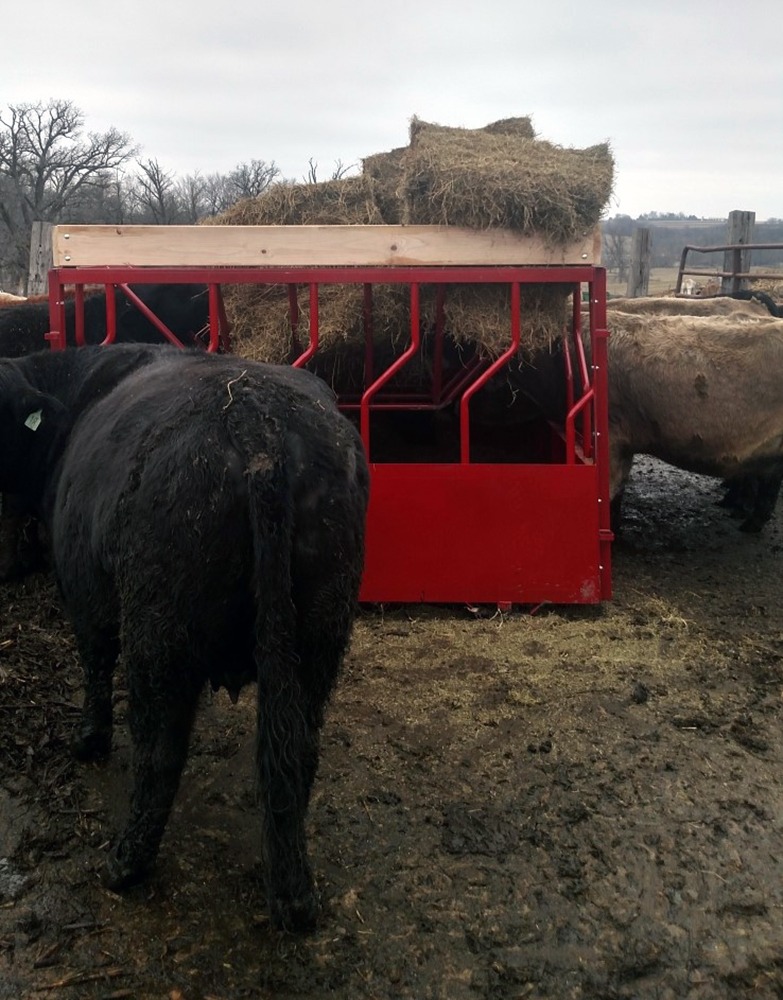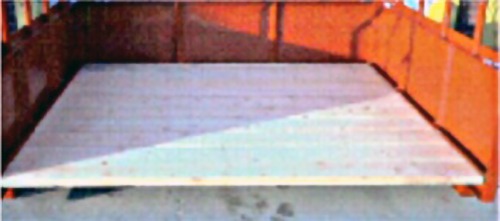 1″ x 2″ x 1/8″ channel on side panels to slide wood floor into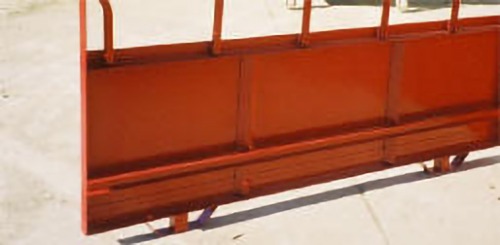 Two runners on each side, made out of 3/16″ steel.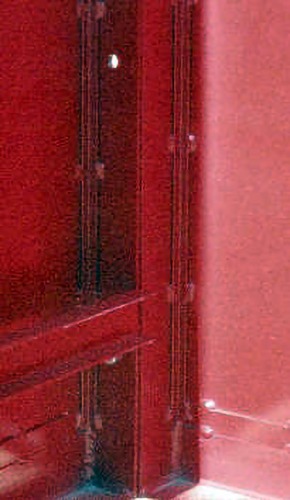 Additional 1/2″ x 1/2″ x 1/8″ angles in corners helps strengthen the sheet metal

Two loops on all four corners, made out of 2 1/2″ schedule 40 pipe, to hang cattle panels from
How To Move
Here are some examples of how to move THE HAY-MIZER® feeder.